From Pat Deveney's database:

Pelecan.
Journal of the Theosophical Union.
1958?--1967 Quarterly
Athens, Greece. Language: Greek. Editor: Aglaia Zannou.
1/1, winter 1958-1959 (no. 15 is spring 1962). 48 pp.

This was a quarterly magazine published by the Theosophical Union in Greece, which was almost certainly part of the United Lodge of Theosophists (ULT) founded by Robert Crosbie and others in Los Angeles in 1909. The Theosophical Union was started on January 2, 1960 and operated concurrently with the (Adyar) Theosophical Society in Greece until November 1983 when the two were merged. The Theosophical Union had its headquarters on the ground floor at 26 Harilaou Trikoupi Street in Athens, in a building originally owned by Aglaia Zannou, the editor of the journal, and later donated to the Theosophical Society in Greece.

Greek Theosophists have written extensively on both Theosophical and philosophical subjects and have also translated many classical Theosophical works from classical works of Philosophy, Esotericism and Theosophy French, English, German, Sanskrit, and ancient Greek to modern Greek. Some of these notable Greek Theosophists are: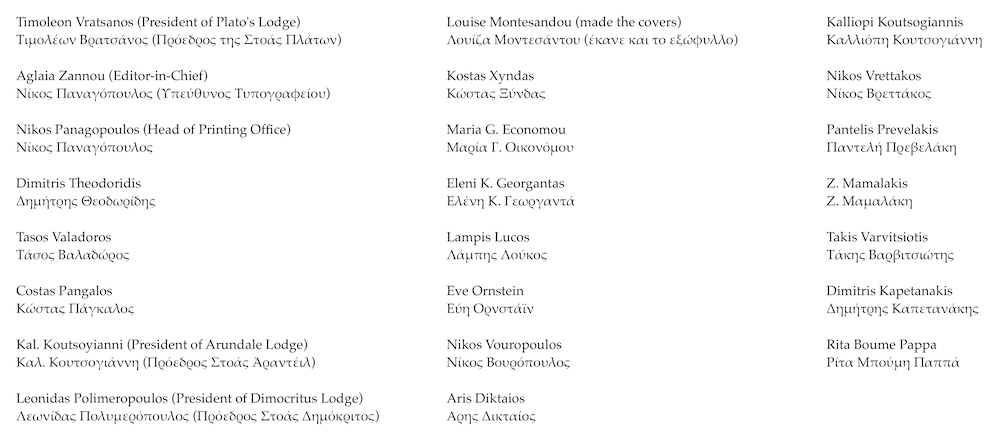 and others.
The issues 14-33 (Spring 1962 - Winter 1966-1967) are from the personal collection of Sophocles Theodotus who also digitized them.
Contributed by Erica Georgiades.