Summary:
From Pat Deveney's database:

Eon (Athens).
Revue Bi-Mensuelle [Semimonthly] Metaphysique et Philosophique.
1920--1921 Semimonthly
Athens, Greece. Language: Greek. Editor: A. Hadjiapostolou, editor-director.
1/1, May 1921-April 1922. 24 issues. 16 pp., $2.50 a year in America.

This was the Greek-language parallel of D.P. Semelas's journal of the same name published in Paris (q.v.), and like it was devoted to astrology, spiritualism, and occultism, centered around the Order of the Lily and the Eagle (l'Ordre du Lys et de l'Aigle) that had been founded by Semelas (1883-1924) and Marie Routchine-Dupre (1883-1918). On them and the Order, see the notes under Force de la Verite and Eon. The Greek branch of the order was organized by Antoine Hadjhiapostolou, the editor of the journal, Nicolas Condaros, George Agathos, and others. The journal had contributions by Semelas (as D.P. Semela), "Teder" (Charles Detre, 1855-1918), Papus's successor as Grand Master of the Martinist Order, Franz Hartmann, Camille Flammarion, Leon Denis, and others. Summary by Dr Leandros Lefakis: EON is the official revue of the Order of of the Lily and the Eagle. The "Eonic Tradition" is the spiritual message that the Founders of the Order (Marie Routchine-Dupre and Dimitrios Platonos Semelas) transmitted to humanity. EON is the name chosen to convey the idea of the Supreme Being, regarded as the source and ultimate destination of all Creation. The word "EON" comes from the ancient Greek "ΩΝ" which means "Being" and which, with the addition of the letter "E", means "He Who Exists by Himself and of Himself", i.e. He Who Was, Is and Will be, Eternally and Infinitely. The revue was saved and digitized with the care and expenses of Mrs. Maria Vassilopoulou.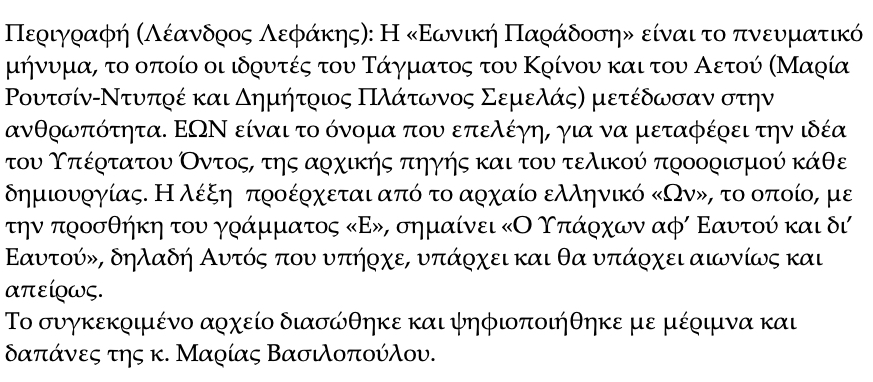 <! -- manifest below -->